Hotel
A Glance at Grand Hotel & La Pace SPA
In the centre of Montecatini Terme just beside the thermal park, in the heart of Tuscany,  you are guests of history: welcome to the Grand Hotel & La Pace, a place where dreams and reality meet. Hospitality is pure passion for us.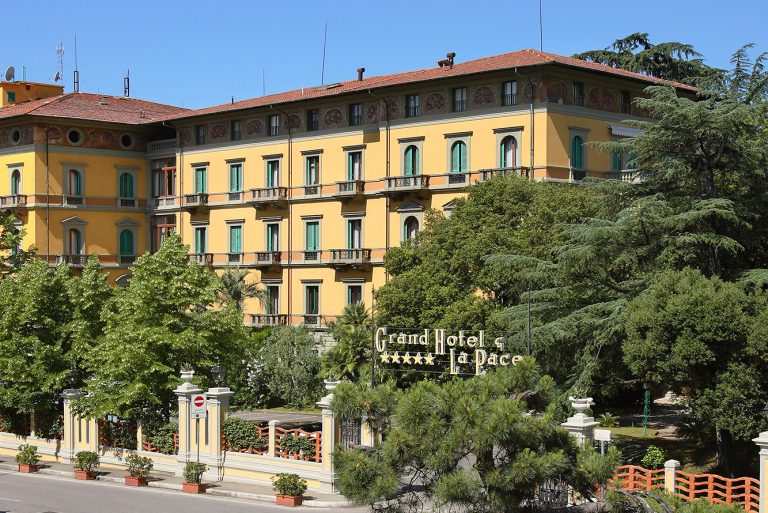 1870
The beginnings of the hotel that promised peace – "La Pace" - dates back to 1870 to a period of continuous conflicts, yet also an era of immense transformations and great hope
1901
In 1901, at the "Locanda della Pace", the creation of what is now the "Grand Hotel & La Pace Spa" commenced, thanks to the foresight of its founders.
Architect Giulio Bernardini completed the design of the new project that Galileo Chini, the master of Art Nouveau, then transformed into the frescos that adorn the sumptuous salons. A timeless symbol of Montecatini Terme, its charm has lured D'Annunzio, Vittorio Emanuele di Savoia and the Royal Family, Puccini, Toscanini, Badoglio, Madame Curie, Trilussa, the Duke of Windsor and Wallis Simpson, the Shah of Persia, the Rothschilds, the King of Saudi Arabia Ibn Saud, Ranieri and Grace of Monaco.
The charm of bygone eras for your stay in Montecatini Terme
Refined environments, high-level cuisine, authentic flavours, the freshest ingredients - in short, the history of the three restaurants and bars of the Grand Hotel & La Pace.
Italian taste and tradition since 1870, a success story that is repeated with every taste. Room service 24h.
Montecatini Terme
Enjoy Tuscany and let yourself be pampered. Experiences to remember curated by GHLP
The outside pool, completely renovated, is  yoy. Ideal place to relax surrounded by the nature, while drinking a fresh juice or tasting the delicacies of our Paul Pool Bistro'. On request, we can organize private events by the pool area with music.
An oasis of well-being in the heart of the Grand Hotel & La Pace, a refuge from everyday stress with GHLP Pool
Completely renovated, surrounded by the shadow of the majestic trees of the centuries-old park, the tennis court of the Grand Hotel & La Pace Spa is available for hotel guests and not resident people. The court can be reserved by the Front Desk. A master for private lessons is available on request.
The Maestro Carlo Pelè Sostegni awaits you on the red court of the Grand Hotel & La Pace Spa for individual or group lessons